Finkmirror Media Works, Inc.,
DETROIT, MICHIGAN, March 1st, 2007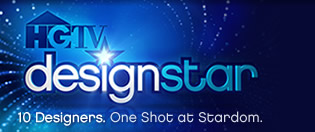 "It is going to be a great story to share with
my kids, students and clients someday."
GETTING A PHONE CALL FROM HGTV in Los Angles was the last thing Detroit area architect Mark J McBride was expecting. Considering the day before he and his wife, Deborah were just at the hospital having their first child. The phone call was from Kyle, the casting producer at HGTV requesting for more information for their second season "HGTV Design Star" auditions.
HGTV, America's leader in home and lifestyle programming has begun their second "HGTV Design Star" nationwide search for designers, architects, and artists. "Design Star" has attracted more than 24 million viewers, which was the highest-rated series ever in the history of the cable network.
Season two will have a cast of 10 designers, architects, and artists — each compete with design challenges and are eventually eliminated to one final designer. The winner is given the reward — a show on one of cable's top-rated network — which could completely change someone's life.
"Kyle called me and said he loved my video and photos, but still would like to see me build something using power tools", Mark said. So Mark filmed yet another video, this time building a modern toddler chair he designed.
With a small smirk on his face, Mark expressed "you know — in the show biz world there is a lot of prep time and waiting." Actually, he didn't hear from Kyle for four weeks until he needed another questionnaire completed so they could finalize Mark's "promo package" to present to the network's executives. Mark explained on how he "completed a 7 page pre-interview application that Friday night around 11:00 p.m. and how all of the questions were really geared for reality T.V. For an example, How well do you deal with other people? or Why would America want to watch you every week?"
In his personal life, he tends to be more private, but "if they want me to express myself a little more in front of a T.V. camera to potentially get my own T.V. show, then that is what I've got to do", McBride said. No matter what, he says that he is ready for America and has the talent to design under pressure. "It is going to be a great story to share with my kids, students, and clients someday." So has he received the next call? Mark says, "still waiting — but you know THAT'S SHOW BIZ."